TRIANGLE Tyre Europe and LASERTA have recently signed an agreement for the distributorship of the brand in the Russian market.
Earlier this year TRIANGLE announced the new strategy of increasing its presence across the globe by opening regional offices and deploying local teams who will be working in partnership with professional distributors in each country.
TRIANGLE and LASERTA started the collaboration on all product categories: from summer and winter Consumer to Off-The-Road tires. The distribution of TRIANGLE tires is targeting a dramatic increase of the market share in Russia, which already has reached in 2016 a remarkable position among the imported brands, thanks to the recognized quality of its tires.
LASERTA, with headquarters in Saint Petersburg, plays an important role in the Russian tire distribution and it is renowned for the good performance in each represented brand, for the presence in the market of its professional team and the marketing initiatives with its customers.
Corrado Moglia, General Manager of TRIANGLE Tyre Europe, declares: "LASERTA is one of the largest tire distributors in the Russian market and this agreement perfectly suits the strategic approach for the growth of TRIANGLE brand".
Dmitry Alexandrov, CEO of LASERTA adds: "LASERTA is pleased to be establish such a partnership with an ambitious Company like TRIANGLE that through high quality operations can contribute to our further growth. We are looking forward to successfully distribute Triangle tires through a long term cooperation with the Group".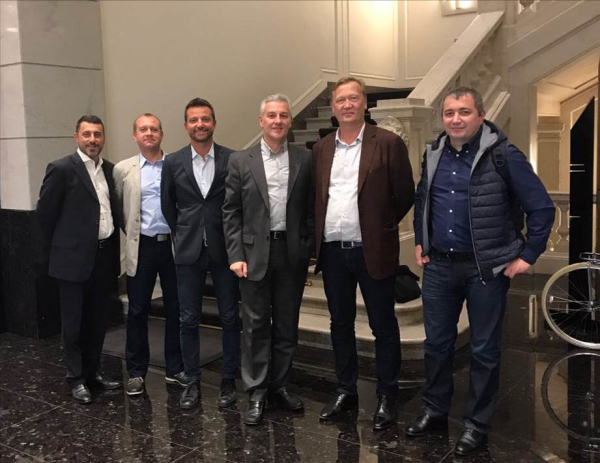 From left to right: Angelo Giannangeli, Yury Timoshenko, Mirco Spiniella, Corrado Moglia, Dmitry Alexandrov
Share to