Shanghai, China, October 28, 2014 — Triangle Tyre Co., Ltd. ("Triangle"), a key player in the tire industry, today announced details of its participation in SEMA Show 2014 in Las Vagas, US. on November 4-7, demonstrating its commitment to innovation for growth.
Triangle will display popular products from its PCR, TBR and OTR lines and will showcase its new PCR products at stand No 40203. These two new PCR products Tires are a preview for the replacement of the current Value and Sport lines well familiar to Triangle's customers.
In addition to new product exhibition, Triangle will release information about forward product branding strategy and forward product plans during a media and dealer event on Nov. 4.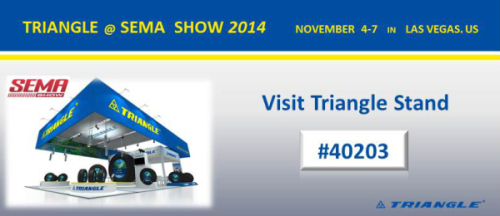 Share to