Shanghai, China, November6, 2014 —Triangle Tyre Co., Ltd. ("Triangle"), one of the globalized tire company, unveiled the new naming system for its new generation of consumer tires at SEMA Show 2014 in Las Vegas, NV, on the 1st week of November. Following the announcement of its ambitious marketing plan in Europe early this year, the innovative presence of the new products and names has shown the company's efforts on "From Plan to Action".
Under the umbrella of the new naming system, the first two new PCR products, "Sportex" and "Protract", have been showcased along with the display of Triangle's popular product lines of PCR, TBR and OTR tires. Triangle Sportex high performance tire is designed to deliver the crisp response allowing sport car drivers to master the road even in extreme conditions and Triangle Protract value segment tire is particularly developed to match vehicle's economic performance and provides extra miles that keep your vehicle going safely.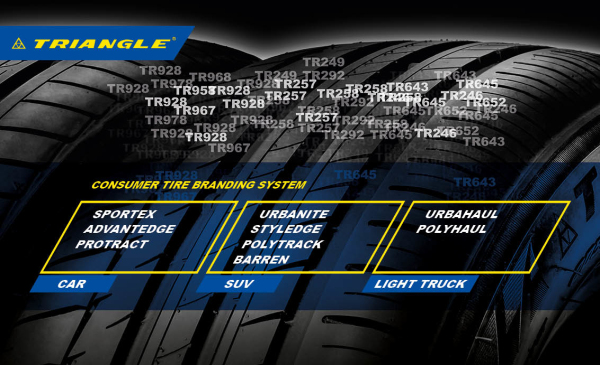 "Making its debut in this fair, the new naming system and the two new kickoff products have provided a clear definition of the strategy set by Triangle for its PCR& LT segmentation. Each new product, throughout the whole PCR and LT range, will have a sub brand name that will allow the consumers to understand the product positioning", Mr. Jenner Powell, Global Marketing Vice President of Triangle Tyre remarked, "We hope our customers are able to see Triangle's endeavors from the "Go to Market" strategy to the real actions through the products and marketing deliverables presented at this SEMA Show."
About Triangle Group:
Triangle, a leading Chinese tire manufacturer, was established in 1976 and mainly produces commercial tire, passenger tire, radial OTR tire, Jumbo OTR tire and special tire. Triangle sells over 25 million tires annually to customers in over 160 countries and regions. It has earned recognition from its customers worldwide for top quality products and excellent services.
Media Contact:
Winnie Zhang
Tel: +86 156 0199 2668
Email:
http://www.triangle.com.cn/en/PRContact@triangle.com.cn
For more information, please go to
http://www.triangle.com.cn/en/www.triangle.com.cn