Triangle Tyre is ranked among the top ten automobile tyre brands in the recently released China Brand Power Index (C-BPI) 2020.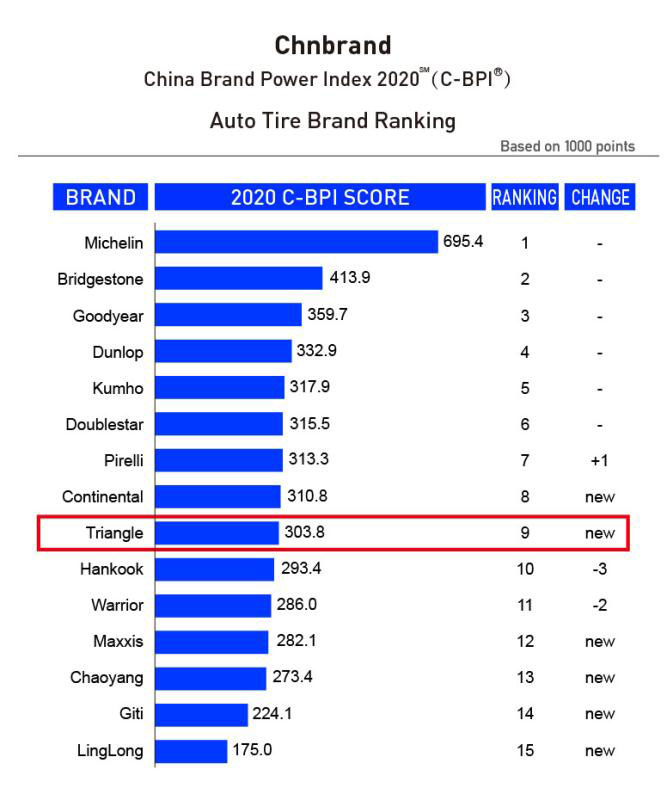 C-BPI is China's first brand value evaluation system implemented by professional brand rating agency CHN-Brand under the guidance of the Ministry of Industry and Information Technology.Firstly launched in 2011, C-BPI is an independent and unbiased study based on the feedbacks from Chinese consumers on products and services used or owned and it determines their buying behavior.C-BPI annual survey helps consumers in their purchasing choices and supports Companies in their brand management.
The 2020 C-BPI survey covered 65 cities across China, targeting residents between 15-64 years of age.Random sampling is conducted based on gender, age and income and the total sample consists in 2.4 Million people.The survey covers 176 sub-sectors and involves more than 8.700 mainstream brands.
The survey is based on two main indicators: brand evaluation and brand relationship.C-BPI brand evaluation indicators include: consumers' first mention rate, unrecognized recognition rate, prompted recognition rate.The indicators of brand relationship are: brand association, brand loyalty, brand preference.
Since the index was released in 2011, Triangle has been on the list many times and in the 2020 survey, Triangle was ranked n. 9 in the top list of tire brands, reflecting consumers' consolidated trust and recognition in the brand.
Triangle Tyre aims at becoming a top of mind brand among consumers all over the World, that are searching for premium quality tyres at a very competitive price.
Share to