At 14:28 of March 28th, the largest giant radial OTR tyre in China that Triangle Group Huasheng company researched and developed independently rolled off the assembly line.

Ding Yuhua, Chairman of Triangle Group, together with the top managers, engineers, workers and journalists as well, witnessed this very important moment. This giant radial OTR tire, whose specification is 53/80R63, weight 5.6 tons, load 82.5 tons and maximum speed 50km/h, will be mainly equipped to the heavy dump truck of more than 300 tons load. This product is featured with excellent performance traction, the optimized pattern design, the low fuel consumption, the superior lifetime, and driving will be as much comfortable as possible.


Since the first radial OTR tyre was produced in November of 2002, Triangle Group has devoted itself to the original innovations on technologies, structures, patterns, materials and designs, and to the innovation by systematic integration on the general technical approach, core technology (one national invention patent and special equipment (several national invention patents). As a result, the product quality is evidently improved a great deal. Up to now, Triangle Group can manufacture OTR tire of all sizes from 49 inches to 63 inches and provide matched products for many famous engineering machinery manufacturers throughout the world, which earns itself a high reputation in the international market.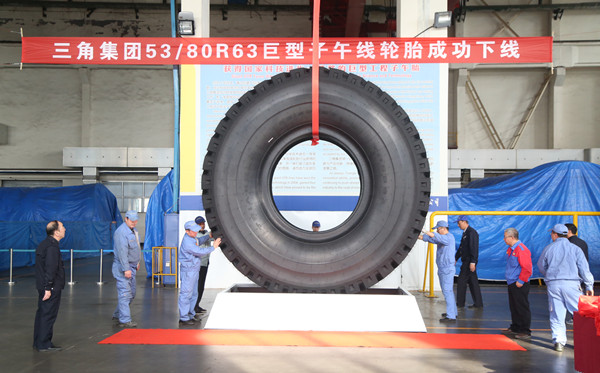 The 53/80R63 Giant Radial OTR Tire Rolls off the Assembly Line.
Share to