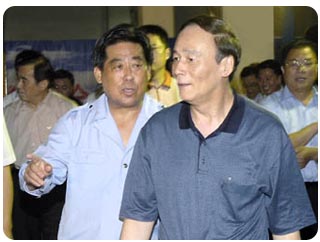 On July 4, Wang Qishan, polibureau member of CPC Central Committee and mayor of Beijing Municipal Government ,visited our factory.
After arrival, Wang Qishan inspected the company's second production base—Triangle(Weihai) Husheng Tyre Co., Ltd,  talked closely with company board chairman Ding Yuhua, particularly asked about the company's production situation.
In Triangle(Weihai) Husheng Tyre Co., Ltd, Wang Qishan listened to the report from Ding Yuhua, company CPC secretary and board chairman,  affirmed the company action of long-term insisting in scientific development, unceasing scientific innovation and management innovation.
During the visit, Wang Qishan watched the PC & OTR radial tyre production line in spirits. Before the Tyre Building Machine for PC radial tyre, he carefully watched the operation process of tyre builing, asked board chairman Ding Yuhua about the production technology. He was very happy to hear that all the production technology is self-independent development and many technology obtained the national patent.
Wang Qishan quitely cares about enterprise export situation and difficulty faces. In the OTR radial tyre exhibition area of Triangle(Weihai) Husheng Tyre Co., Ltd, he inquired closely about the situation of prodution cost, self-innovation and production export. He pointed out that it was difficult to continue the old extensive trade, and it must to solve the present difficulties from structures, method and quality to raise the enterprise profit and competetive power. When heard Triangle(Weihai) Husheng Tyre Co., Ltd has difficulty in foreign exchange settlement, he immediately instructed the relevant accompanying department to analysis it deeply and solve the company actual difficulties and universal problems. The OTR radial tyre of Triangle Group is full of high technology and has a high value added, its production technology exploitation gets No. 1 prize in the country's science & technology development match, Wang Qishan is very happy when heard that introduction. He pointed that, quality is foundation of a enterprise, the production quality and safety must be strictly held, then it is able to earn the enterprise the initiative position in the national market competion. He also emphasized that the enterprise must creat its well-know brand name and make its core competitive advantage.
After the visit, Wang Qishan greatly affirmed at the achivements of Triangle Group, he happily took a photo with board chairman Ding Yuhua before the national first Giant OTR radial been researched and developed by Triangle, and encouraged Ding Yuhua to make persistent efforts, grasp the company's technology research and development, earnestly strengthen the management, promote the industry and production structures to upgrade and turn to a new generation.
The accompanying people to visit including secretary of Shandong Province Jiang Yikang, vice-secretary and mayor of Shandong Province Jiang Daming, Deputy Secretaries-General of State Council You Quan, chief of General Administration of Customs Sheng Guangzu,chief of State Administration of Quality Supervision, Inspection and Quarantine Li Changjiang, chairman of China Bank Regualtory Commission Liu Mingkang,vice-director of Ministry Commerce Gao Hucheng, vice-president of Bank of China and chief of State Administration of Freign Exchange Hu Xiaolian, vice-president of Bank of China Yi Gang, Secretary of Weihai City Wang Peiting, vice-secretary and acting mayor of Weihai city Sun Shutao.