From May 24th to 27th, the biennial REIFEN ESSEN opened at the Essen international exhibition center. Triangle Group as an exhibitor attended it and held a new product recommendation meeting during the exhibition.

At REIFEN ESSEN, Triangle Group concentrated on displaying its new pattern tires for the European market and its snow engineering tires mainly for the Northern European market. During the exhibition, the stand for Triangle Group was crowded with visitors. Both the old and the new customers from England, Ireland, Italy, Germany, France, Norway and other countries and regions were deeply impressed by the good products of Triangle Group.

On the evening of May 25th, Triangle Group held a new product recommendation meeting at Das Hotel to display its passenger tires, commercial tires and engineering tires developed mainly for the EU market. More than 50 customers from 16 countries invited to attend it showed great interest in these new products. Obviously, the meeting can help the customers to have a better understanding of the products Triangle Group manufactures, and at the same time prove that Triangle Group attaches great importance to brand building and technical input in product development.

REIFEN ESSEN and the new product recommendation meeting mentioned above deliver the confidence and the strength of Triangle Group to its consumers in Europe and make Triangle Group better-known throughout the industry successfully, which is of great importance to promote Triangle Group's strategy of globalization.

REIFEN ESSEN, the largest, the most extensive and the most influential professional tire exhibition all over the world, initiated in 1960. This biennial exhibition which is known for its demonstration of the latest products and techniques of the industry has become a guide to the trend of the tire industry throughout the world. What's worth noting is that 660 tire companies from 43 countries attending this exhibition is the new record for participants of all previous ones. There is no doubt that this exhibition not only pioneers the trends of the latest technique and product development in tire industry, but promotes the agreements between the manufacturers and the consumers to achieve a win-win result as well.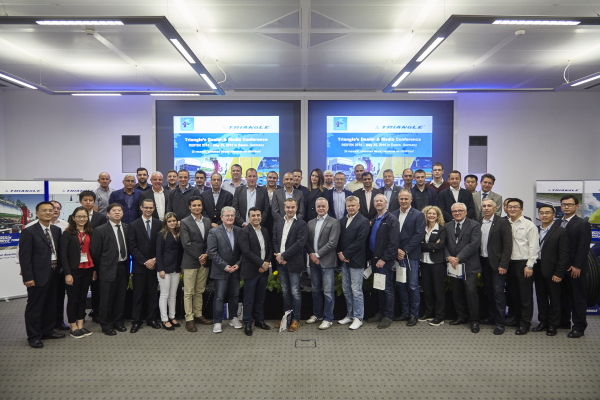 Share to