From July 13th to 15th, the 2016 Latin American & Caribbean Tire Expo was held at the Atlapa Convention Center in Panama. Triangle Group participated in this Expo. A great many customers visited its booth and sang high praise for its products. Due to the fact that Panama has strong ability of radiation, Panama Tire Expo has become the most important and professional exhibition in tire industry in Central and South American region.

Panama links Central, South and North America, from which any Caribbean country is accessible. It is this strong ability of radiation to the surrounding area that makes Panama a strategic area in Latin America. In order to consolidate and increase the market share, Triangle Group and its key partners attended this Expo with their booth at the center of the pavilion and the logo of Triangle Tyre in many places, which attracted the attention of a great number of customers.
At this Expo, Triangle Group demonstrated not only its new pattern tires but also its commercial tires, passenger tires and engineering tires, which are popular in Latin America nowadays. A special feature on Triangle tyres was being broadcasted over and over again. And the customers, old and new, coming from Peru, Venezuela, Chile, Guatemala, Panama, Costa Rica, Argentina, Canada and Mexico, showed great satisfactions with the high quality products and services of Triangle Group, and expressed strong interest in cooperation with Triangle Group. With such face-to-face communication, no doubt that Triangle Group can obtain the visual market feedback more timely, and get a more detailed understanding of the specific situation of Latin American market, and of the actual sales mode as well as the current difficulties faced by every customer. Meanwhile, Triangle Group can share its new sales policies and market development plans with the relevant customers, which convinces them of the fact that Triangle Group will try its best to grow together with its customers, enhance the mutual trust with its customers, and lay a solid foundation for its further expansion of the market.

The 2016 Panama Tyre Expo has enlarged the influence of the world-famous brand of Triangle further and demonstrated the promising prospects of Triangle Group in the Central and South American tyre market.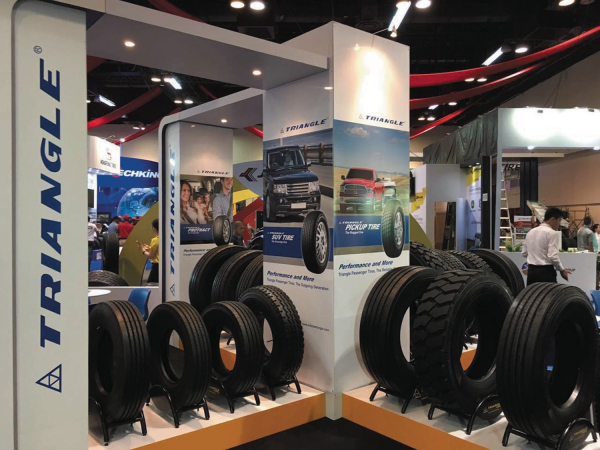 Share to